We are pleased to share that Tesla Power USA's strategic alliance with Indian Oil Corp Ltd (IOCL) for battery distribution and sales will significantly benefit both the customers and company in India. The alliance allows Tesla Power USA to sell their batteries at over 36,000 IOCL petrol pumps across India, potentially offering the most prominent distribution reach for any battery brand in India.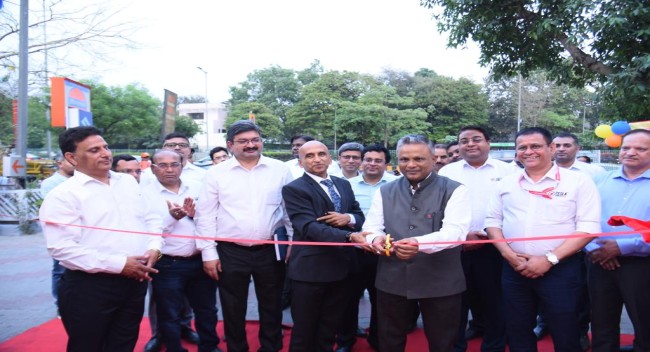 Customers may profit significantly from the TBA (Tyre Battery Accessories) idea of placing batteries at petrol stations, including the ease of receiving battery replacement or new purchases and refueling their vehicle, saving them time and effort. Customers can also access a wide range of battery options, making it easier to find the suitable battery model for their car, or bike, reducing the hassle of searching for the correct one elsewhere.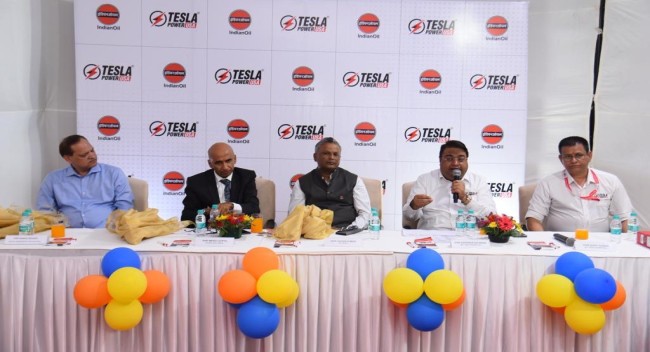 Batteries from Tesla Power USA will initially be offered at selected IOCL petrol stations in the Delhi-NCR and then in more states. If this alliance succeeds, the TBA idea will be gradually replicated across India, making it simpler for customers to get easy, dependable access to battery-related services.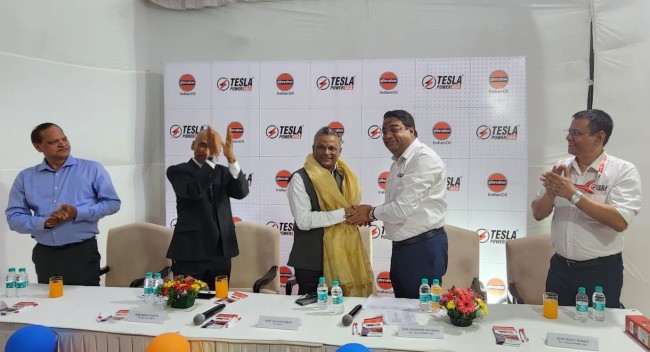 Customers will know about this new cooperation by seeing the items prominently advertised at the IOCL petrol pumps. As a part of promotion, with the purchase of every four-wheeler battery, customers will receive a free Fire Extinguisher worth Rs. 600, and with the purchase of two-wheeler batteries, an assured gift worth Rs. 250. To ensure that dealers are prepared and trained to help customers, Tesla Power USA is also paying particular attention to after-sales support by giving a complimentary tool kit and training to all designated workers at the IOCL petrol pump.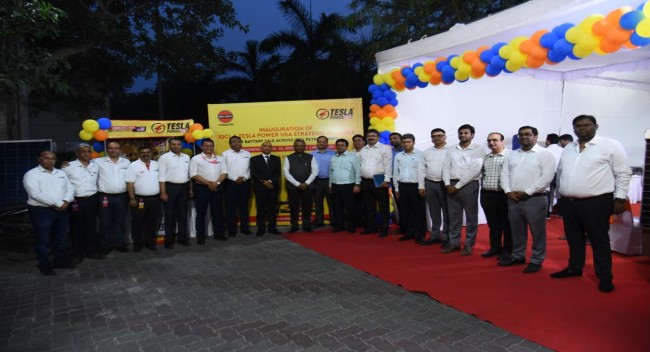 In conclusion, the strategic alliance between Tesla Power USA and IOCL is a significant development for both the companies. Tesla Power USA's batteries are now more widely available. Customers can enjoy the convenience of getting battery replacements or new purchases and refueling their cars or bikes at IOCL petrol pumps.
Read Latest Stories and Coverages
https://psuwatch.com/newsupdates/tesla-power-usa-inks-pact-with-indian-oil-corp-to-sell-batteries-at-petrol-pumps
https://www.outlookindia.com/business/tesla-power-usa-inks-pact-with-indian-oil-corp-to-sell-batteries-at-petrol-pumps-news-281812
https://auto.economictimes.indiatimes.com/news/auto-components/tesla-power-usa-ties-up-with-iocl-for-battery-sales-in-india/99810259
https://www.evmechanica.com/tesla-power-usa-forms-alliance-with-iocl/
https://www.livemint.com/companies/news/tesla-power-partners-with-indian-oil-corp-for-battery-distribution-at-petrol-pumps-across-india-11682587358689.html
https://www.deccanchronicle.com/business/companies/270423/tesla-power-usa-iocl-ink-pact-for-battery-distribution.html
https://www.etnownews.com/companies/tesla-power-usa-batteries-at-iocl-petrol-pumps-in-india-tesla-power-usa-iocl-make-an-important-announcement-article-99811814
https://www.bqprime.com/business/tesla-power-usa-inks-pact-with-indian-oil-to-sell-batteries-at-petrol-pumps